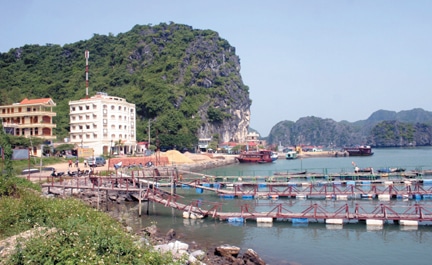 Traveling Cat Ba to discover Cai Beo relic
It is only 200 meters away from Ang Mat and Bu Brown mountains running around to embrace Cai Beo, making it windy, noisy sea, charming scenery, favorable for living and fishing. Perhaps the natural beauty has gathered together with the advantages of terrain, rich in products, so the ancient inhabitants of Cai Beo have gathered for a long time here, creating a unique culture.
According to the document of Assoc. Prof. Dr. Nguyen Khac Su (Vietnam Institute of Archeology), the head of the research and excavation of Cai Beo relics has so far had 4 surveys and excavations of this site. For the first time, in 1938, the French archaeologist M.Colani discovered Cai Beo was the cradle of ancient culture of Vietnam. On that basis, the Institute of Archeology has investigated and discovered sea culture crib. By 1981, the Vietnam Museum of History had a second excavation here. Although the excavation scope is only 78m2, many stone artifacts have been found in two successive stages of development, namely Ha Long and Ha Long. In 1986, the third excavation was continued.
Archaeologists have found nearly 180 stone tools, including: chisel tools, unmodified grinding tools of 6 pestles and stones, 9 pieces of porous pottery, 18 pieces of thin hard pottery, 93 pieces of coarse pottery thick, 11 marine fish vertebrae, 88 sea fish heads, 6 bones of animal bones ... Fourth excavation on December 5, 2006 with the participation of many prestigious scientists, when the excavation ended at the beginning of the month 1-2007 obtained from 10 holes with 137 stone artifacts, 1,424 prehistoric ceramic pieces and 568 specimens of animal remains and sea mollusk shells. Analysis shows that the collected artifacts are made of granite and coarse pottery, no fish bones, fish bones, shells, large sea oyster shells ...

From the evidence of excavation, Cai Beo is a marine archaeological site with a large scale, thick stratum, a complex of relics and rich relics. The cultural traces here reflect the next development from the middle of the new stone - typical of Cai Beo culture, to the new post-stone period - typical of Ha Long culture. Associate Professor, Dr. Nguyen Khac Su said that Cai Beo archaeological site is one of the most precious relics of the northern coastal region. This is an ancient coastal fishing village with the largest scale currently known in Vietnam.

About 7,000 years ago, the Cai Beo people lived mainly on sea fishing and catching oysters and oysters. They maintained that life up to 4,500 years ago today. Distribution of Cai Beo fishing village is very large, about 18,000m2. Residents in Cai Beo developed through many eras, from Trung trung stone to Early Bronze Age. From hunting, gathering, fishing to agricultural settlement, it is considered as the process of developing Cai Beo culture to Ha Long tour culture. The first residents of Cai Beo were native, likely to be the ancient descendants of Hoa Binh - Bac Son culture. And Cai Beo culture mobilized, developed into Ha Long culture in the bronze age in the Northeast coastal region.